The college football season is finally here.
For those who celebrate with a tailgate at their alma mater or at a grill in their backyard, it's the perfect time to match the wafting aroma of smoked meats with wine.
But not just any wine. Canned wine is the fastest-growing segment of the wine industry – it's a market that grew 3,800 percent between 2017 and 2021, according to a Nielsen study – and the quality is better than ever.
Serious wineries have entered the market. With an aluminum can, there's no worry about broken glass. It's also a package that's easily recycled. Canned wine represents less than 2 percent of the wine market, but as wine becomes more mainstream, a better educated American consumer has more tasty options from which to choose than ever before.
"We are all getting more open-minded in respect to wine, people are understanding that wine needs to pair properly with either the food or the occasion," Sonoma-Cutrer Director of Winemaking Cara Morrison said. "Most wine connoisseurs would agree that a tannic cabernet sauvignon doesn't pair well with a hot summer's day or a light seafood salad."
The Sonoma winery entered the canned wine market in April with its Sonoma-Cutrer Chardonnay 4 Pack ($19.99), and it had light-bodied peach and dried apricot flavors.
One of the first wineries to market canned wine was The Infinite Monkey Theorem. If a monkey were placed in front of a keyboard for an infinite amount of time, it eventually would compose a piece of classic literature. The hypothesis is the inspiration for the urban winery in Denver, which launched its canned wine program in 2011.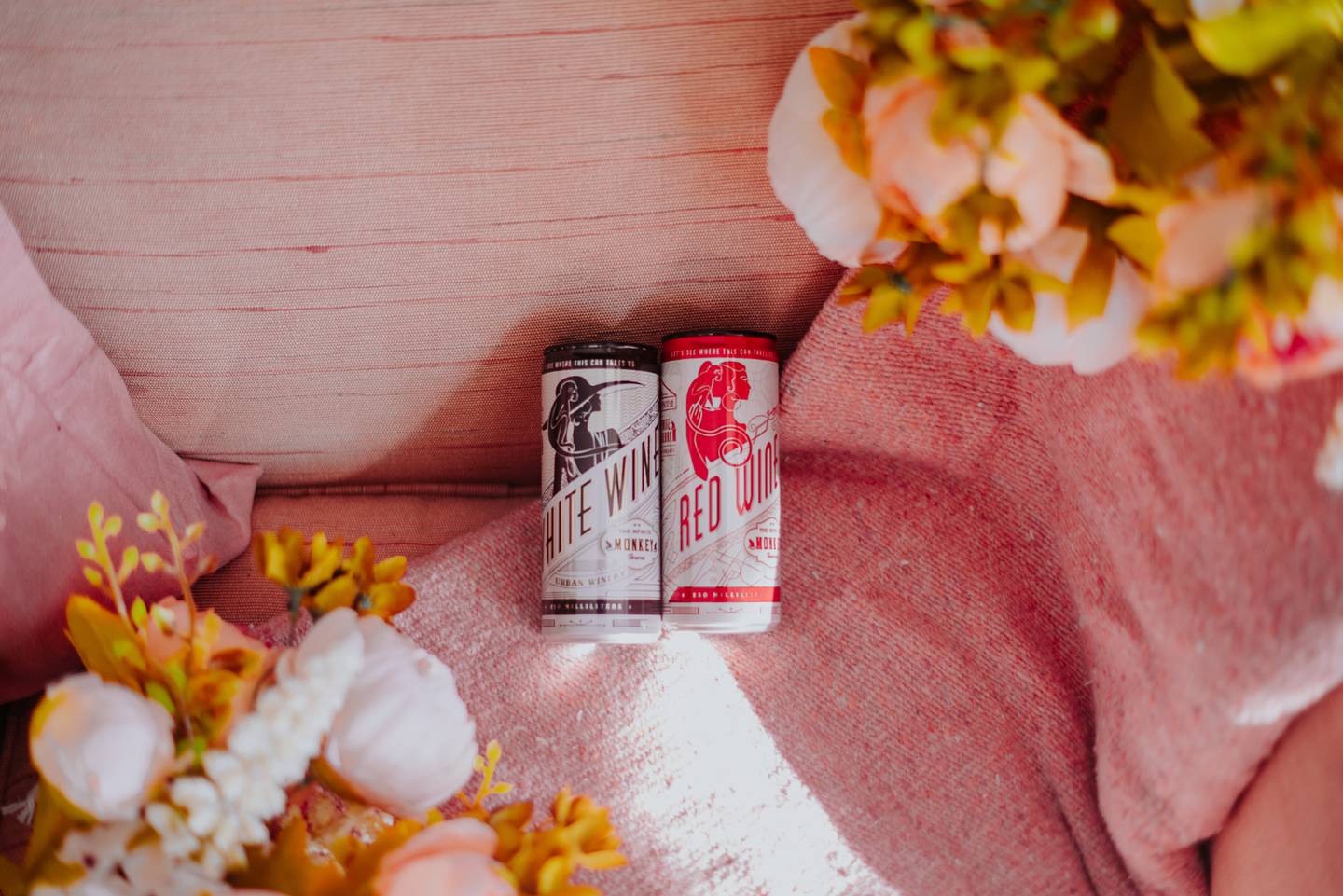 CEO Nicki McTague, who leads a small team at the woman-owned-and-operated winery, recently did a slick rebranding of the can's label art, and has made top-notch canned wine.
"You can always find cheap pressed wine," McTague said. "Once the market opened up and everyone made canned wine, we knew we had to make better canned wine. We didn't want to just pump out cans of wine with terrible juice."
Its experience showed with The Bubble Universe Can 4 Pack ($18). A carbonated riesling that's bone dry with lively acidity, Meyer lemon and snappy Granny Smith apple flavors. It's the best canned sparkling wine I've tasted this year. According to Skyquest market research, sparkling wine accounted for 66% of the canned wine market in 2021.
Not to be outdone, IMT Red Can 4 Pack ($18) is a cabernet sauvignon and syrah blend with currant, juicy black berry and cinnamon-stick flavors. It's an ideal foil for tailgate burgers, steaks, ribs, sausages or lamb kabobs. The winery also has four-packs of stainless-steel chardonnay with its White Can ($18), a syrah-based Rosé Can ($18) and a Peach Bellini Can ($18).
"When we started to make canned wine, we talked about camping," McTague said. "We are based in Colorado, and 100% of our marketing was based on hiking, biking, camping, getting a can when you get off a ski lift. It was all the extreme things we do in Colorado.
"But we've become more well known through that," she said. "We just landed a stadium account to be carried at baseball, basketball and hockey games. We are in concert venues, and are big on the festival scene. There's no glass, and the can is recyclable; it's perfect for outdoor activities and events."
When Sonoma-Cutrer started to test screw caps on its bottled wines in 1999, there was also pushback. Wine drinkers are as stubborn and traditional as Notre Dame football. While big-brand college football teams have forsaken years of traditional and common-sense geography when it comes to the most recent realignment in conference affiliation, Notre Dame has clung to football independence.
Now that the screw cap finally has gained mass appeal, the next space for growth is the aluminum can.
"New packaging with a traditional product like wine takes lots of time and research," Morrison said. "I'm proud to be part of a brand that isn't afraid to try new things. Between the screw cap and canned wine, I'm also excited to serve wines that are more accessible, both in flavor and convenience. It took decades for wine consumers to become comfortable with screw caps, and I'm seeing the adoption of cans at a more accelerated pace. The younger generation has no preconceived notions about how wine should be served, and older generations now see the benefits of screw caps, and are more open-minded to other packaging."
While the probability of a single-vineyard canned wine or an age worthy collectible iteration of a can ever being produced is slim, McTague said that's not the goal.
"You don't always have to sip and swirl," McTague said. "You can just crack open a can, and enjoy it."
It's time to grab a can, and enjoy the games.
• James Nokes has been tasting, touring and collecting in the wine world for several years. Email him at jamesnokes25@yahoo.com.
TASTING NOTES
Montinore Estate Willamette Valley Pinot Gris 2021 ($17.99): Another reason to love Oregon pinot gris, this one with its pear, melon and green apple flavors also wrapped in a pungent floral blossom note to offer a contrast to the fruit.
Montinore Estate "Vivacé," Oregon Sparkling Wine ($30): A blend of gewürztraminer, Müller-Thurgau, pinot gris and riesling – there's Meyer lemon, honey, lemongrass and a zest finish.
R. Stuart & Co. "Love" Oregon Chardonnay 2019 ($25): Aromas of citrus, yellow apple and Asian pear yield flavors of tart grapefruit, marzipan and lemon meringue.